PPCS Series Bag Type Dust Collector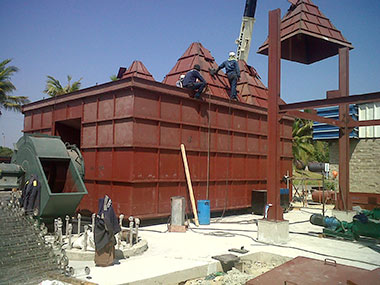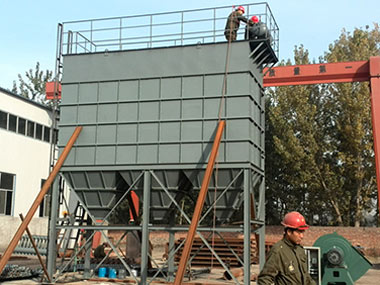 PPC type air box pulse dust collector is with the introduction of technology manufacturing. It combines the advantages of a sub-room cleaning and pulse cleaning of the baghouse, thereby it can expand the scope of application of the baghouse, improve the collection efficiency and extend the service life of the bag. This series of dust collector is composed of a number of different rooms and the number of different bags per room combined into a variety of specifications, the number of bags per room has 32, 64, 96, 128 bags, 33 kinds of specifications. The dust collector of this series can be positive or negative pressure operation, the basic structure is without any changes.
PPC series of dust collector inlet concentration up to 1000g/M3, its collection efficiency can reach 99%. The use of polyester 208 filter temperature is 120 ° C, allowing the application of glass fiber needle felt filter temperature is 210 ℃.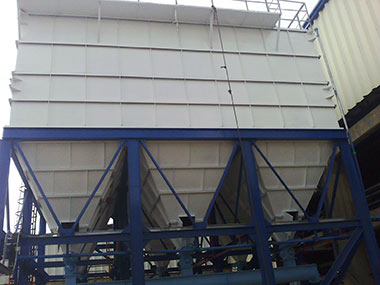 Scope of application
PPC series dust collector are widely used in crushing, packing, top of your library, clinker cooler and various types of mills and other dust collection system of a cement plant for the coal mill dust with anti-blasting measures.
Main technical specification
Type
Air Capacity(m³/h)
Gross filtration area(m³)
Net filtration area(m³)
Chamber Qty.
Filter bag
Air consumption
(m³/min)
Impeller-type feeder
Tube screw conveyor
Air conveying slides
Qty.
spec.
PPCS32-3
6900
93
62
3
96
130×
2450
mm

0.27
300×300(mm) motor power
1.1KW
-
PPCS32-4
8930
124
93
4
128
0.37
-
PPCS32-5
11160
155
124
5
160
0.46
-
PPCS32-6
13390
186
155
5
192
0.55
-
PPCS64-4
17800
248
186
4
256
1.2
300mm30m³/h
motor power
2.2KW
-
PPCS64-5
22300
310
248
5
320
1.5
-
PPCS64-6
26700
372
310
6
384
1.8
-
PPCS64-7
31200
434
372
7
448
2.1
-
PPCS64-8
35700
496
434
8
512
2.4
-
PPCS96-4
26800
372
279
4
384
1.2
400×400(mm) motor power1.5KW
400mm38
(m³/h )
motor power 5.5KW
-
PPCS96-5
33400
465
372
5
480
1.5
-
PPCS96-6
40100
557
465
56
576
1.8
-
PPCS96-7
46800
650
557
7
672
2.1
-
PPCS96-8
53510
744
650
8
768
2.4
-
PPCS96-9
60100
836
744
9
864
2.7
-
PPCS96-2×5
66900
929
836
10
960
3.0
2 sets 350×350(mm) motor power
2×1.5KW
2 sets 300mm2X21m³/h motor power 2.2KW
-
PPCS96-2×6
80700
1121
1028
12
1152
3.4
-
PPCS96-2×7
94100
1308
1251
14
1344
4.2
-
PPCS96-2×8
107600
1494
1401
16
1536
4.8
-
PPCS96-2×9
121000
1681
1588
18
1728
5.4
-
PPCS96-2×10
134500
1868
1775
20
1920
6.0
-
PPCS128-6
67300
935
779
6
768
130×
3060
mm

3.6
300×300(mm) 1.1KW
300mm motor power 2.2KW
-
-
-
PPCS128-9
100900
1402
1246
9
1152
5.4
PPCS128-10
112100
1558
1402
10
1280
6.0
PPCA128-2×6
134600
1869
1713
12
1536
7.0
305×915(mm) motor power XWD4-7-1/371.1KW
B250mm
Air volume required 2m³/m2
PPCA128-2×7
157000
2181
2025
14
1792
8.3
PPCA128-2×8
179400
2492
2336
16
2084
9.5
PPCA128-2×9
201900
2804
2648
18
2304
10.7
PPCA128-2×10
224300
3115
2959
20
2560
12
PPCA128-2×11
247600
3427
3271
22
2816
13.1
PPCA128-2×12
269100
3738
3582
24
3072
14.3
PPCA128-2×13
294600
4050
3894
26
3328
15.5
PPCA128-2×14
314000
4361
4205
28
3584
16.7