Dense phase pneumatic conveying system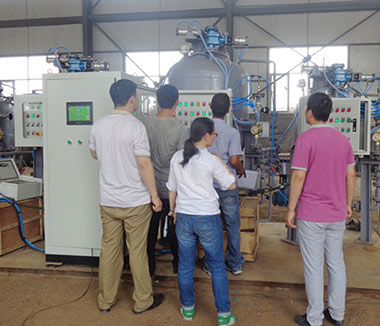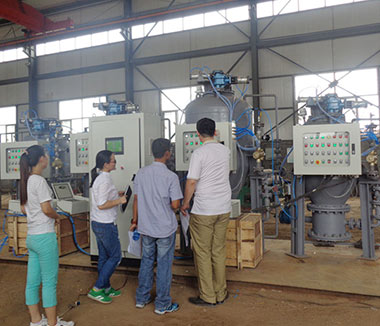 1. Outline
Dense phase pneumatic ash handling system according to the Code for designing ash handling system of power plant, adopting advanced pneumatic ash conveying technology to ensure long-term stability and reliable operation. System group into two types: L-type(Bottom discharge) and LD-Type (Upper discharge). Screw air compressor is main power, and conveying dust into ash silo through pipes.
The positive pressure pneumatic ash handling system in accordance with the mechanism of positive pressure pneumatic ash handling system, so that the same system can be with a variety of operating modes and means of control and be able to adapt to a variety of operating environments and requirements.
Positive pressure pneumatic conveying system with L type and LD Type Dense phase pneumatic pump for the main equipment. There is a Dense Phase Pneumatic Pump under per ash hopper , multiple pump with one pipeline for alternate transportation or transportation at the same time to ensure the system stable and reliable operation under the continuous operation.
LD type is upper attractive pump (Upper discharge), also named Positive pressure position pneumatic pump. It is pneumatic conveyor and suitable for in many discharge ports, less quantity situation. Generally it is set up under the hopper of Dry Type Dust Collector.
The Properties of conveyed materials of which true specific gravity is about 2.5, bulk density is more than 1 and moisture is less than 5%. Widely applied to convey dry powder, such as kiln dust, coal ash, cement and chemical raw material.
LD Type pneumatic conveyor adopts advanced pipeline conveying method to convey material with long conveying distance. This machine with low conveying speed to reduce the wear and Limit shrink the air quantity. Because its high automaticity and flexible operation, automatic control system is full auto control from feed to convey. It has these characteristics that can save energy and reduce consumption, save investment cost and are easy to maintenance and manage. Widely used in thermal power plant.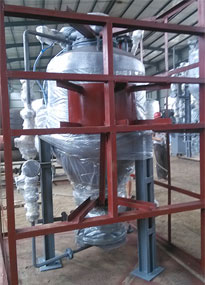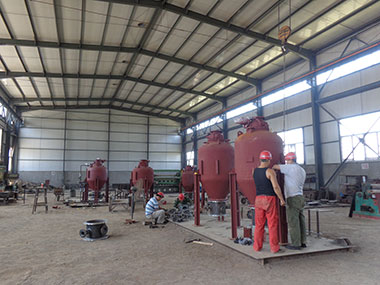 2. LD Type and L-Type assembly Pneumatic Conveying System outline
LD-Type is similar with L-Type, it is intermittent transmission, it is a period after finish convey one pump material. LD-Type Pneumatic conveyor is grouped by feeder valve, outlet valve, Gasification chamber, construction period control system and electrical control system, etc.
In order to meet the different requirement of customers, the pipes of Pneumatic Conveyor systems are designed and configured based on site conditions and transportation requirements. L positive pressure upper attractive pneumatic conveyor(Upper discharge)is the same with L-Type Pneumatic Conveyor installed feeder valve, level indicator, pressure transmitter and so on. Set gasification device in the lower part, there is ash conveying pipe interface with outlet valve in the upper side.
The pneumatic conveying system is a method of conveying dry material in a pipeline through air without any moving parts. The pneumatic conveying is necessarily custom made conveying system & based on product characteristics, particle size, throughput capacity, number of sources and number of destinations. Each pneumatic conveying system is designed & customized as per the application popularly known as custom conveyor system. The provided solution is assured to be the best pneumatic conveying system solution for the application.
These systems are best suited for handling all fine, heavy, abrasive, non-abrasive, fragile or difficult to handle, granular and powdery material including fly ash, silica sand, cement, coal coke, bentonite, dextrine, soda ash and others.
Dense phase pneumatic conveying pump also named as conveying warehouse pump.
Sending system operating modes: materials in the storehouse are into storehouse pump under gravity, during this time, the discharge valve and the intake valve is closed while Pneumatic sealing valve, close calve and exhaust valve are opening, so this can ensure the material into the storehouse pump smoothly. Level indicate-or send electrical signals to PLC controller when the materials reach a certain position in pump, then PLC controller convert electrical signals into valve signal, at the same time, exhaust valve closed, sealing valve, closed valve, vent valve open, after the pressure in storehouse reach a certain extent, signal is sent to PLC controller by pressure transfitter, with that send to discharge valve after PLC convert it into electrical signals. Open the discharge valve, materials into pipe with low flow, high density by air flow. Period finished, pressure in storehouse pump and pipe drop to zero.
Each unit process: feeding→ pressure to boiling→ fluidify→ return to zero→ next unit.
1.LD type upper attractive pneumatic conveyor(Upper discharge) data:
Parameters
LD0.6
LD1.0
LD1.5
LD2.0
Body Inner Diam.(mm)
800
1000
1200
1400
Total volume(M^3)
0.6
1.0
1.5
2.0
Body material
Q235-B
Operation Temp.(℃)
≤120
Max.design pressure(Mpa)
0.78
Operation Pressure(Mpa)
0.2-0.5(Basis on the conveying distance)
Max.conveying distance(m)
<1000
Outlet conveying Diam
DN80
DN100
Air consumption (m^3/min)
3.5-7
5-10
2.L type Bottom discharge Pneumatic conveyor data:
Parameters
L-0.8
L-1.2
L-1.4
L-1.6
L-1.8
L-2.0
L-2.2
L-2.4
Body Inner Diam.(mm)
800
1200
1400
1600
1800
2000
22000
24000
Total volume(M^3)
0.35
1.32
2.15
3.0
4.12
5.0
7.5
9.25
Operation Temp.(℃)
≤120
Max.design pressure(Mpa)
0.78
Operation Pressure(Mpa)
0.2-0.5(Basis on the conveying distance and conveying material)
Body material
Q235-B
Max.conveying distance(m)
500~1500M
Outlet conveying Diam
DN50
DN100/DN125
DN125/DN15
Mixing ratio
50
60
60
60
60
60
70
70
Capacity(t/h)
5
12
20
25
30
35
45
55
Air consumption (m^3/min)
2
6
6~10
10~20
16~20