MC serial Industrial Pulse Jet Dust Collector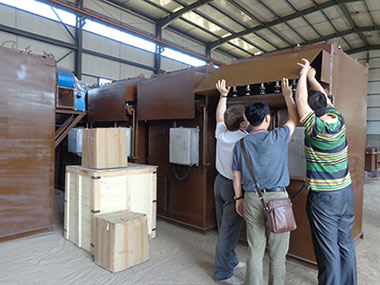 1.Introduction:
MC-Pulse jet filter dust collector is a kind of filter dust collector equipment. Using pulse back-blow(reverse air) to collect the dust and the dust removal efficiency can reach 99.7%.
MC-Pulse jet filter dust collector have broken with convention of pulse dust collector and seperate chamber back-blowing dust collector, it has a better ability of dust cleaning and lower emission level.
2.Structure:
Bag type dust makes up of frame, ash bucket, in-the-box, on-the-box, bag, frame, jet cleaning devices and plc components such as control procedures. In-the-box is the sub-room structure ,while working the gas spread out by the dust collecting duct in all ash bucket .Coarse particles directly fall into the ash bucket bottom for wind speed reducing and the ash bucket spoiler role in the collision, fine dust rose with the bag at all between the fine dust was blocked leaving the outer surface of the bag, cleaning gas clearance role with negative pressure ventilation through the bag into the mains from the body into the atmosphere, reaching the purpose of purification.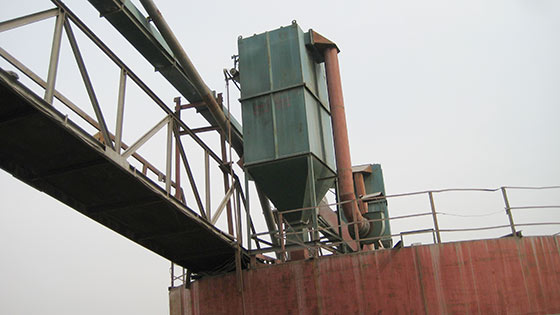 3.Working Principle:
1). The dust-laden air enters the bag filter.
2). The dust /powder separates inside the bag filter chamber.
3). The air is uniformly distributed avoiding channelling while the powder is separated.
4). Initially a coat of material forms on the bags. Subsequently, the coat acts as the filtering medium.
5). The dust is accumulated on filter elements while the air passes through the filter bags from outside to inside.
6). The accumulated powder is dislodged from the bags by reverse pulsejet air intermittently.
7). The dislodged powder falls on bottom cone and is discharged through powder discharge valves.
8). The dust free air is sucked by induced draft fan and is exhausted to atmosphere.
4.Main technical specification:
Type Item
MC-24
MC-36
MC-48
MC-60
MC-72
MC-84
MC-96
MC-120
filtration area(m2)
18
27
36
45
54
63
72
90
filter-bag quantity(piece)
24
36
48
60
72
84
96
120
Filter standard(diameter×length)
120×2000
120×200
120×2000
120×2000
120×2000
120×2000
120×2000
120×2000
resistance(pa)
1000-2000
1000-2000
1000-2000
1000-2000
1000-2000
1000-2000
1000-2000
1000-2000
efficiency of dust collection(%)
99-99.5
99-99.5
99-99.5
99-99.5
99-99.5
99-99.5
99-99.5
99-99.5
dust content in stack gas(g/m3)
3-15
3-15
3-15
3-15
3-15
3-15
3-15
3-15
wind speed(m/min)
2-4
2-4
2-4
2-4
2-4
2-4
2-4
2-4
air volume(m3/h)
2160-4300
3250-6480
4320-8630
5400-10800
6450-12900
7550-15100
8650-17300
10800-20800
pulse valve quantity (piece)
4
6
8
10
12
14
16
20
Pulse width (S)
0.1-0.2
0.1-0.2
0.1-0.2
0.1-0.2
0.1-0.2
0.1-0.2
0.1-0.2
0.1-0.2
Pulse period (S)
60
60
60
60
60
60
60
60
Blowing pressure(kg/c m2)
5-7
5-7
5-7
5-7
5-7
5-7
5-7
5-7
Size of outside (length×width×height)
1025×
1678×
3660

1425×
1678×
3660

1025×
1678×
3660

1025×
1678×
3660

1025×
1678×
3660

1025×
1678×
3660

3585×
1678×
3660

4358×
1678×
3660