Scraper Conveyor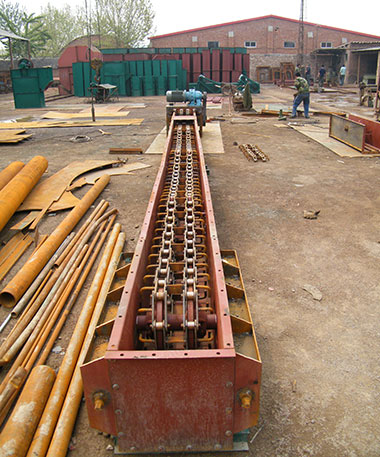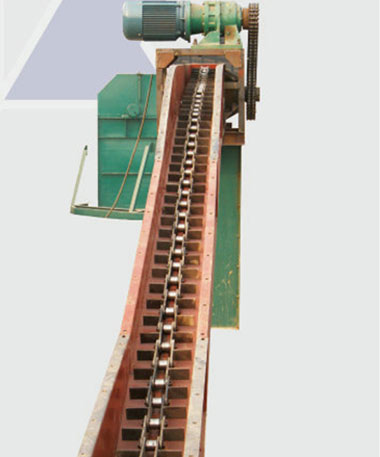 1.Outlet
This equipment is commonly used in the horizontal transport particles and powder materials, and also can work under the angle is ≤15. Scraper Conveyor can be horizontal or inclined settled, it is an ideal transportation equipment for metallurgical, chemical, mining, building materials, food feeding and processing industry.
2.Structure and principle
Scraper Conveyor is group by head, the middle channel, tail, chains, drive system and the corbel of installation. Chain with high-quality roller chain, inlet, outlet and the distance of transport can be flexible designed as the process requirement. It is high reliability, save energy and easy maintenance.
The material is continuous transporting from tail to head in a sealing environment, can be achieved multi-feed, multi-point discharge.
Tail part set screw adjustment to adjust the Chain tightness,so keep the chain in a proper tension when it is operating and make sure it can run stable.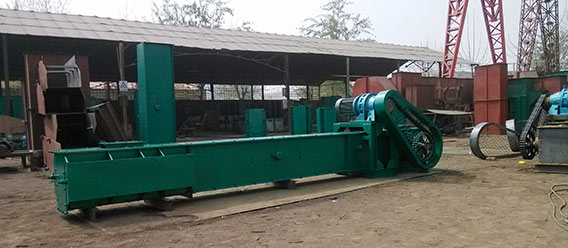 3.Equipment selection
(1)Chain selection
The user should select the appropriate speed of the chain according to the properties of material. For example, strong abrasive, high temperature, large particles or with a large proportion of particles should with low speed.
(2)Machine Type
After chain speed is determined, it can select the best model according to the capacity. In the same capacity, selecting the larger models can reduce chain speed, thus it can prolonging the service life. But if the actual capacity is less than 30% of the machine rated capacity, thin material layer will cause the idle, so it will increase the wear and tear.
4.Data sheet
Sheet 1
type
item
FU150
FU200
FU270
FU320
FU350
FU410
FU500
FU600
FU700
Slot width (mm)
150
200
270
320
350
410
500
600
700
Delivery Volume
( M3/h)
5.5-13
9.5-24
18-45
30-64
35-80
50-110
80-170
180-270
250-450
Chain speed(m/min)
6-15
6-15
6-15
8-17
8-17
8-17
8-17
14-25
14-25
Efficiency(%)
0.7~0.8
Conveying distance (m)
8-50
8-50
8-50
8-50
8-50
850
8-50
8-50
8-50
Motor power (KW)
2.2-7.5
2.2-11
4-18.5
4-18.5
5.5-22
5.5-22
7.5-37
18.5-75
18.5-75
Drive installation type
Left/ right or on the back
Drive type
Chain drive
Particle size(mm)
<5
<5
<7
<9
<9
<11
<25
<25
<25
Moisture(%)
≤5
Temp.( ℃)
≤180
Sheet 2 Inclined conveyor discount coefficient
| | | | | | | |
| --- | --- | --- | --- | --- | --- | --- |
| Angle(°) | 0-0.25 | 2.5-5 | 5-7.5 | 7.5-10 | 10-12.5 | 12.5-15 |
| | 1 | 0.95 | 0.9 | 0.85 | 0.8 | 0.7 |