NE series plate chain bucket elevator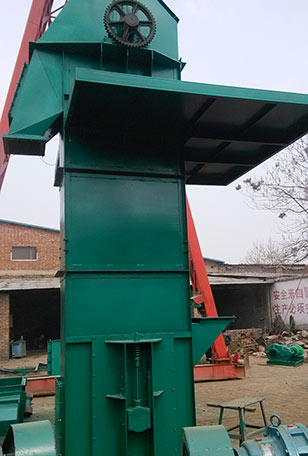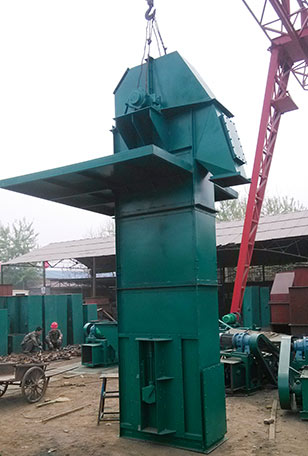 NE series plate chain bucket elevator is designed by our company absorbed from foreign chain technology. It is big hopper and large capacity which can be used in cement plant, mineral, chemical and other else conveyor industries.
1.Strong points
(1)Large capacity
Apply big hopper and small pitch of hopper, the capacity can be up to 800m3/h. Feeding way is that inflow to feed and gravity induce to discharge.
(2)Large using scope
It can not only elevate general powder and small granular material but also can elevate clump material. The temperature of material need ≦250℃
(3)Nice appearance,fully welded chassis and sealing well. Lower pollution of environment.
(4)The running parts are hopper and sleeve roller chain. NE30 applies single row chain, above NE50 apply double row chain. Drive device are motor+ reducer +chain drive. The reducer apply hard tooth surface ZLY and ZSY type. It also can be designed the maintenance frame and handrail according customer's needs.
2.Technical Parameter
Model
Capacity
(m3/h)
Bucket capacity
(L)
Pitch between buckets
(mm)
Speed of bucket
(m/s)
Size of material
(mm)
Working
parts to
weight
(kg/m)
NE15
15
2.5
203.2
0.5
50
37.5
NE30
30
7.8
304.8
0.5
65
35
NE50
50
15.7
304.8
0.5
65
64
NE100
110
35.0
400
0.5
95
89
NE150
170
52.2
400
0.5
95
112.3
NE200
220
84.6
500
0.5
125
134
NE300
320
127.5
500
0.5
125
188
NE400
400
182.6
600
0.5
145
205
NE500
500
260.9
700
0.5
165
223
NE600
600
330.2
700
0.5
165
274
NE800
800
501.8
800
0.5
195
313